DR. 90210 FERRARI 458 ITALIA'S + VIDEO
Posted: 02 June 2016 | Story & photos: RaceMasteR J | Additional photos by Nish


It's funny how many stories I can tell you that start off with the words "when I was a boy..." This happens to be one of those stories. So, when I was a boy growing up in the Southern Suburbs of Cape Town, sitting in the passenger seat of my mom's Opel Monza on our way home back from school, I used to more often than not notice some of the most beautiful cars in the neighborhood sat parked outside the shops around the corner from my house.

The car or car's that I'm talking about was the Alfa Romeo Giulietta which had the most amazing colour, custom body work and wheels. The thing is, one day it was blue with a certain set of wheels, the next time it was a Daytona Violet colour with a different set of wheels and finally on another occasion it was silver with black wheels. Initially this confused the hell out of me but I soon realised that these were indeed not colour changers or transformer cars.



As I grew older I eventually figured out whose car's these were. They belonged to the Fataar brothers who owned a panel beating and spray painting business called Alfa Bodyworks not too far from where I stayed. They were renowned for their quality workmanship, spray painting and custom fabricating. It was a time when custom bumpers were not readily available off a shelf.



When I was old enough to own my own vehicle, being a petrol head, I naturally wanted to "modify" my own car. They were the first and only people I went to and it was then that I came to know of Shameeg and Moeneeb aka Nibbles personally. When it came to their cars, the boys had style, no doubt. They were the trend setters in the modified car scene winning many car shows all over the Cape and even some magazine covers.



Fast forward more than 10 years, I've grown up, a bit, and the brother's taste in vehicles has matured rather nicely. They have expanded to a state of the art facility around the corner from their original premises which we did a story on here.
They also upgraded from Alfa's to Ferrari's. Which we did a feature on here with Shameeg's 360 and Muneebs F430. Probably the best looking Ferrari's around at the time because you know they couldn't drive standard looking cars.



But even so, that was a few years back and I am proud to introduce you to the brother's latest creations. A pair of 2013 Ferrari 458 Italia's. I can tell you first hand that the Ferrari 458 is a supercar of note, having driven one myself flat out around Killarney. It has the style, looks, handling and performance to make it one of the best supercars of all time.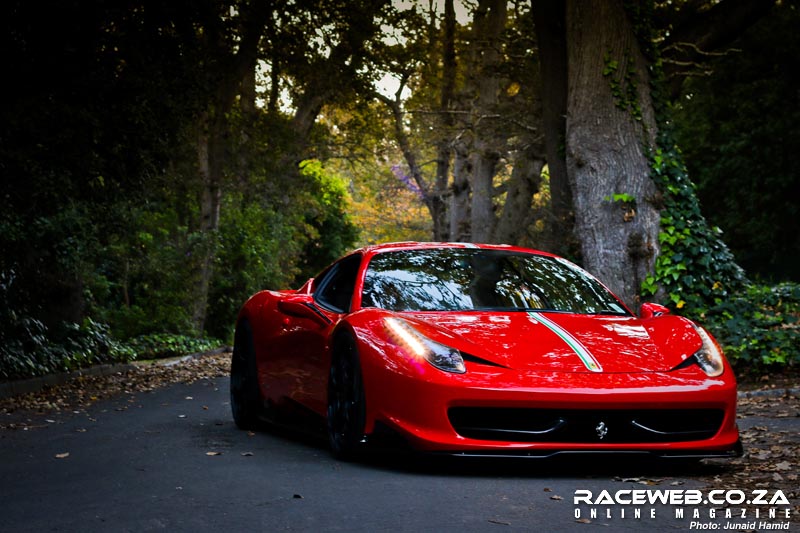 But as with their previous Ferrari's, they just could not let it be, they had to add their own personal touch to it. Moeneeb has the black 458 while Shameeg owns the red one. One of the first things they done was the mandatory rim and a drop. That alone transformed the look of the car into something much more aggressive.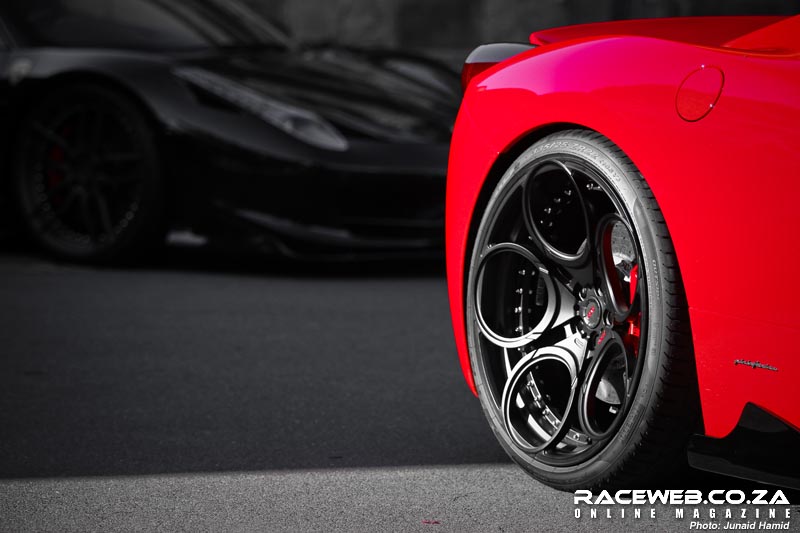 From standard 20 inch wheels they bumped it up to 21 inch at the front and 22 inch at the back ADV1 wheels wrapped in 255/30/21 section tyres in front and a massive set of 335/25/22 section Pirelli P Zero Nero GT tyres at the back. Shameeg has the ADV05C set on the red 458 while Moeneeb has the ADV005 set on his black Italia. Both cars are also fitted with Novitec Rosso lowering springs finishing off the aggressive stance.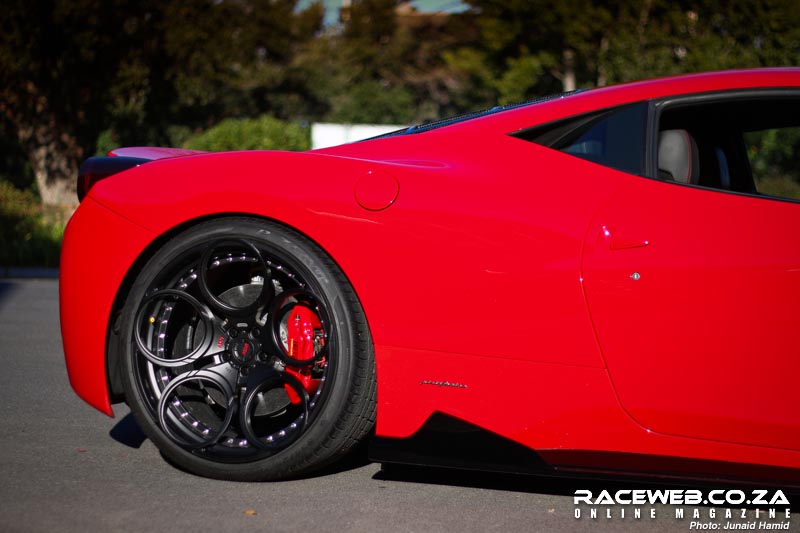 Next up was the body kit. Unlike the crazy Liberty Walk look, which can be a bit over the top some times, the brothers preferred the subtle and classy look. They opted for the Auto Veloce carbon fibre front splitter, side skirts and rear diffusers which they could not leave standard as well.



Shark style vents were added to the front splitter inspired by the Ferrari La Ferrari FXX and the side vents from the Ferrari 458 Speciale was added to the side skirts.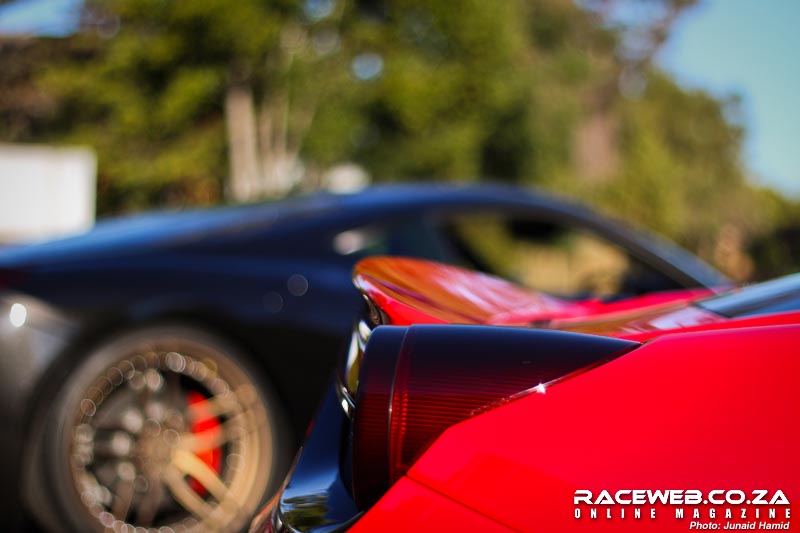 A Prior Design boot fin was added to finish up the rear end nicely giving it a bit more height at the back. Tail lights were also smoked out as well as some of the badges. Subtle stripes add a nice touch as well.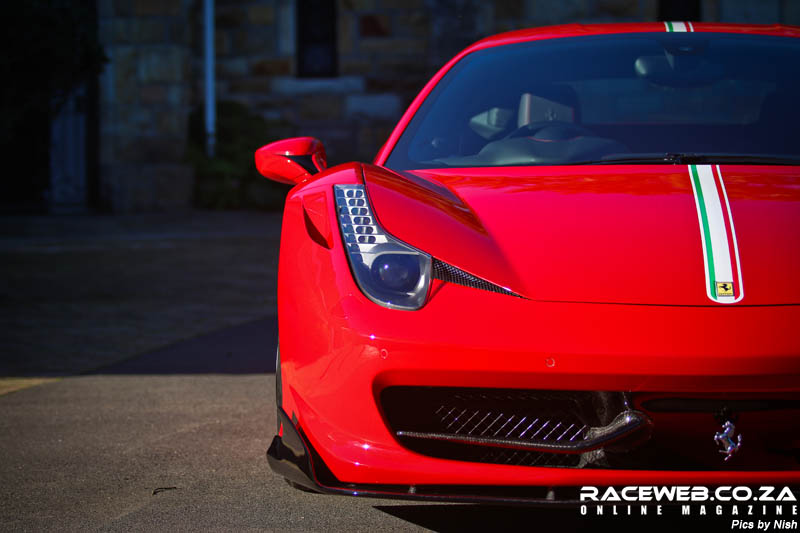 Moeneeb went for the matte black look inspired by the Ferrari 430 Scuderia and the Italian flag style stripes was added by Shameeg from the Ferrari 360 Challenge Stradale.



Another subtle addition is the set of Prior Design tail light grill inserts. The average eye would not even spot these but they all add up to something very special in the end.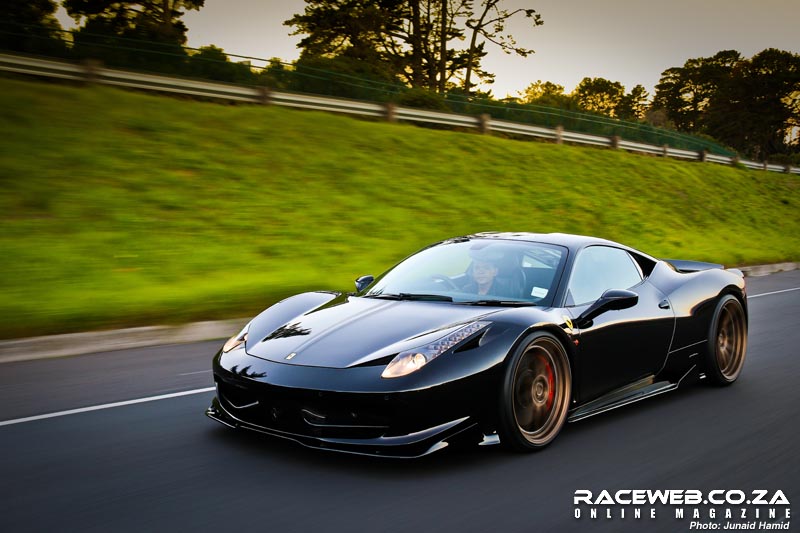 Pictures just do not do these cars justice as you have to see them for yourself in the flesh. When these cars are parked or driving together, heads just spin and jaws just drop.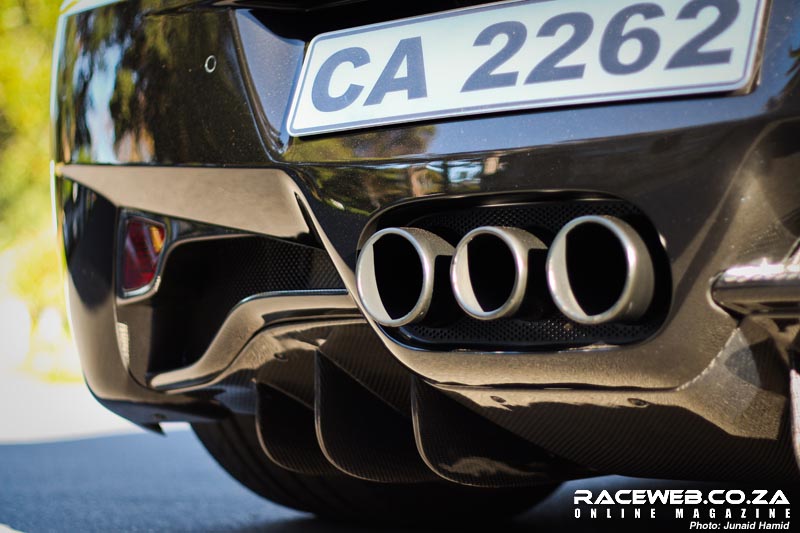 Performance was not altered as these car's are fast enough. They each deliver 562HP (420kw's) from their 4.5L V8 engines at the 9000RPM rev limit. That means they do 0 - 100km/h in under 3.4 seconds with a top speed of 323km/h! The only mod was the exhaust valves are set to permanently open making them roar even on idle. So they both have awesome sounds to match their incredibly sexy looks.



I like to think of Shameeg and Moeneeb as the Dr. 90210 plastic surgeons for cars. Not so pretty car's go into their workshop and come out looking like models. I love your work guys and I think its world class putting Cape Town on the map. I can't wait to see what you guys touch next… Maybe a pair of old school Alfa Giulietta's…? Who knows…stay tuned!
One last thing before we end this, check out this super cool video put together by the guys over at SD Studio's from the shoot. Enjoy!
RaceMasteR J
Junaid Hamid